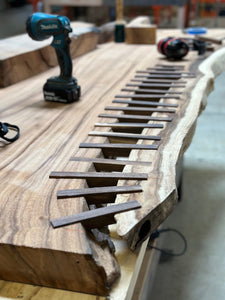 Wood Inlay Bowties, Wood Banding
Bow tie inlays are a beautiful and classic way to add interest and elegance to any piece of woodwork. These decorative pieces of wood, which are cut in the shape of a bow tie, are carefully fitted into a pre-cut groove in the wood, creating a stunning pattern. But did you know that there are many other types of wood inlays that you can use to add even more beauty and interest to your woodworking projects?
In addition to bow tie inlays, there are many other types of decorative inlays that are commonly used in woodworking. One popular option is parquetry, which uses geometric patterns to create intricate designs. Marquetry, on the other hand, involves using a variety of different woods to create detailed images or patterns. Another option is intarsia, which involves creating a mosaic-like design using different colored woods.
But that's not all! Other types of inlays include banding, which uses thin strips of wood to create geometric patterns, and stringing, which uses thin strips of wood or other materials to create decorative borders. These techniques can add a touch of sophistication and refinement to any piece of woodwork, and can be used in a variety of different applications, from furniture making to cabinetry and more.
So the next time you are looking to add some extra flair to your woodworking projects, consider using one of these beautiful and timeless inlay techniques. Whether you choose a classic bow tie inlay or something more intricate, these decorative elements are sure to impress and add a touch of elegance to any piece.
---