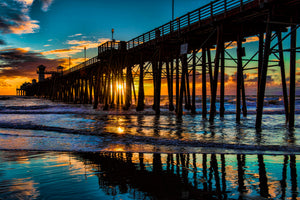 Oceanside, CA Home to fine furniture and sunny beaches
Oceanside, California is a coastal city located in San Diego County, just north of San Diego. With its year-round sunshine, beautiful beaches, and vibrant culture, Oceanside is a popular destination for tourists and locals alike.
One of the main attractions in Oceanside is its long sandy beach, which stretches for three miles along the Pacific Ocean. The beach is a popular spot for swimming, surfing, sunbathing, and other beach activities, and it is also home to the Oceanside Pier, a historic wooden structure that stretches out into the ocean and offers breathtaking views of the coastline.
In addition to its beautiful beaches, Oceanside is also home to a number of other attractions, including Jay Edward Woodworking which creates beautiful live edge dining tables and conference tables for businesses in California, the California Surf Museum, which celebrates the history and culture of surfing in California, and the Oceanside Museum of Art, which features contemporary art exhibits by local and regional artists.
The downtown area of Oceanside is also a must-see, with its historic buildings, charming shops, and delicious restaurants. Here you can find everything from vintage clothing stores and artisanal gift shops to seafood restaurants and craft breweries.
Overall, Oceanside is a vibrant and welcoming city with something for everyone. Whether you're looking to spend a day at the beach, explore local art and culture, or simply relax and enjoy the laid-back California lifestyle, Oceanside has something to offer.
---